Virtual phone system description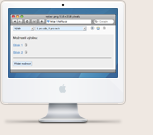 Interactive menus that places callers into a queue before transferring them to the right department are no longer features you can't afford. Telfa is a hosted solution for customer service hotlines and call centers. You only need a VoIP telephone and this website to take advantage of it.
Save voice mail and retrieve it as e-mail attachments.
Have detailed call statistics including ringing length.
Record calls and have the recordings accessible over the web.
en, about, connect_via_api
Set up an interactive menu that will let the caller choose where to be transferred to.
Treat calls received after working hours and on weekends differently.
Pricing